The God Of High School Episode Two Review
The first episode of an anime is usually the set-up. After that, we start to learn a little more about the characters, world, and narrative we're strapping in for. The God of High School really set the bar high in its premiere episode. Was episode two enough to convince viewers that this is a must-watch summer anime? Let's get into this The God of High School episode two review.
The God of High School Episode Two – renewal/soul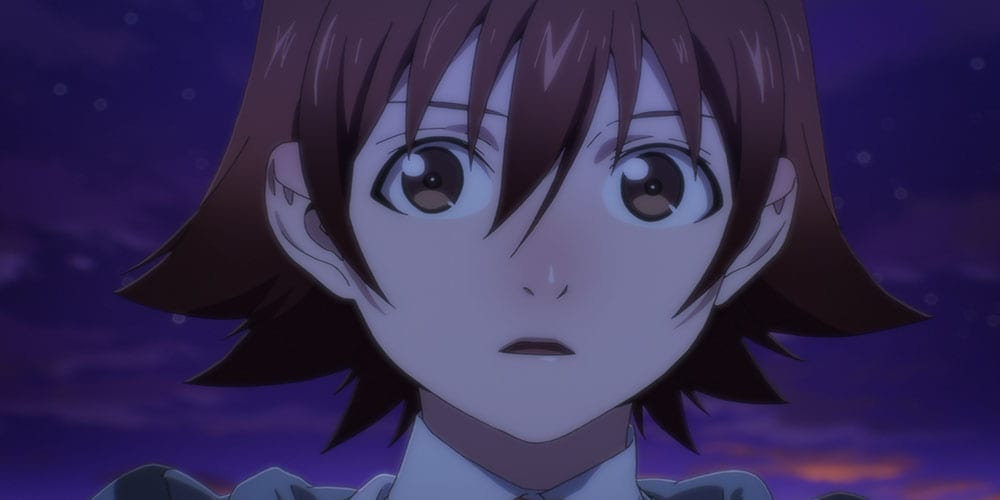 Image Credit: Crunchyroll
Heads up: this review contains spoilers for the second episode of The God of High School.
When we kick off episode two, we return to that mysterious island where some powerful person or group seemingly controls the weather. This person seriously has some powers we don't understand yet. Those people who died on the island were part of a group of wealthy, influential people who want answers. However, the organization or group looking into the event is also about to get a major surprise. As they look into what occurred on the island, they get a security alert. Suddenly, someone walks right into their base-like office unscathed. When questioned, the person identifies themself as Mujin Park from the Republic of Korea's National Assembly.
Meanwhile, at the tournament, Mori, Daewi, and Mira are finding themselves together more than expected. They not only befriended one another by chance on the first day but also live near each other. On the walk back home, Mira mentions a strong sense of pride and protection she has for her sword and family. At some point, her father ran a sword dojo that spanned decades. Now, it seems like the art form is in danger of disappearing. Mira's reasoning behind being in The God of High School tournament is to revive the dojo. Daewi, however, mentions wanting money, while Mori wants to get stronger. After Mori accidentally knocks Mira's sword into the river, the three look for it, realizing they might be in this together whether they like it or not.
The Tournament is Underway!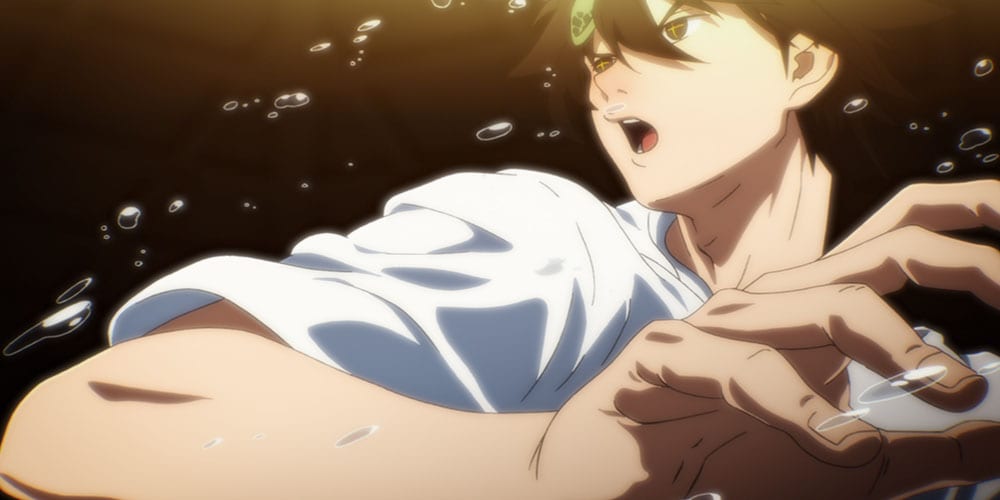 Image Credit: Crunchyroll
The actual tournament starts in The God of High School episode two. If you read our review of episode one of God of High School, then you know we saw a bit of action but no real face-offs. In quick succession, we see glimpses at Mori and Mira's first fights. They both win handily. Then, we get introduced to the two fighters who we'll focus on for the rest of the episode. Gang Manseok, a favorite to win the tournament, is up against the traditional tai chi stylings of Go Gamdo.
In the training and waiting room backstage, Gang tries to pick a fight with Go before the fight even starts. He seems unpredictable and aggressive, which is fine for the fight, but there's an extra element of danger with him. Go, on the other hand, practices mindfulness to keep calm and focused. Mori steps in during the altercation and rubs Gang the wrong way. Mori is already taking on this element of resiliency in spite of situations maybe not involving him. Overall, it seems like he always wants to look out for those who need him.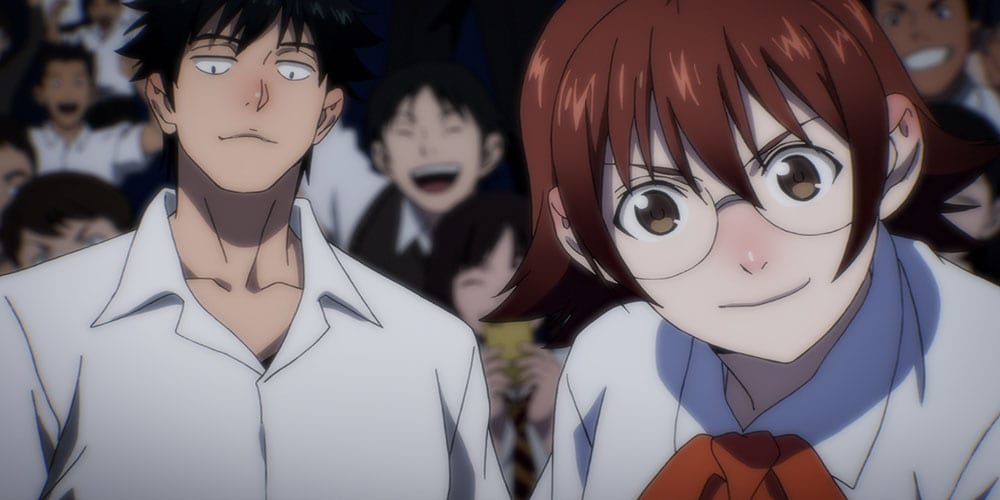 Image Credit: Crunchyroll
When Go and Gang actually fight, the battle takes a nasty turn. After a strong start, Go falls victim to Gang's strength, and overall, is no match for him. Gang doesn't just set out to win, however, but hopes to force Go to beg for forgiveness and his life. We see in a flashback somebody did this to Gang, which is likely spurring his desire for revenge and a win. Gang knocks Go unconscious and then proceeds to begin breaking Go's limbs. This act isn't against the rules, but seems cruel beyond measure. Enter Mori.
Mori is Already in Hot Water in Episode Two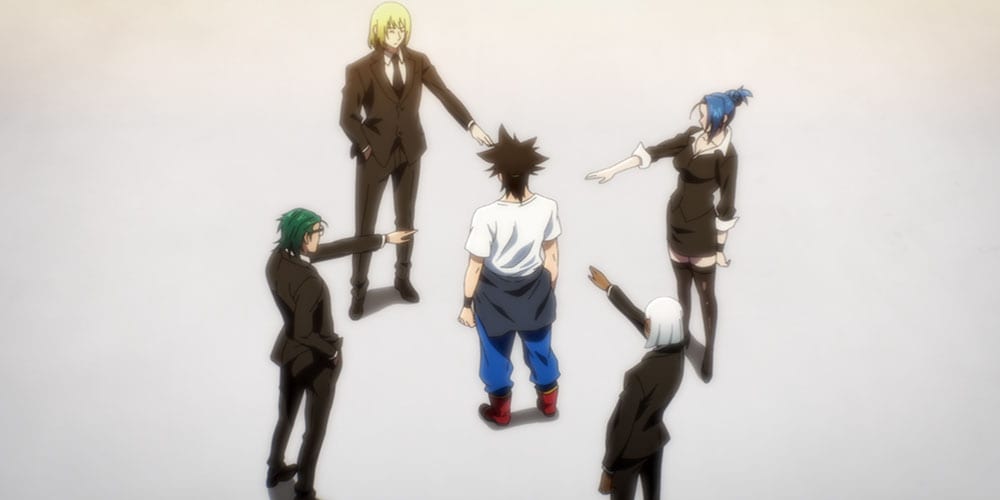 Image Credit: Crunchyroll
The competition does not allow for other fighters to enter the ring during a battle. Yet, Mori sees this act of abuse against Go and steps in. The tournament's judges try to step in, but Gang is infuriated by Mori's involvement. This leads him to use some sort of power that we can't quite identify. It's not magic, but it's God-like, and it shows that some of these fighters are more than meets the eye. Despite a thick cloud of smoke surrounding the ring and Gang showing immense power, Mori defeats him in aerial combat.
Upon defeating Gang, Mori is thrust to the floor in a cross-like position. That same cross is worn on the neck of Mujin Park, who enters the arena from a side entrance. He's clearly holding Mori to the ground with some sort of power. We learn that Mujin is in charge of the tournament, and he intends to punish Mori somehow for his breaking of the rules. Otherwise, he indicates the tournament can continue to thunderous applause. As the tournament's organizers lead Mori out of the arena, fans are cheering for him, including Daewi and Mira.
The God of High School Episode Two Review Score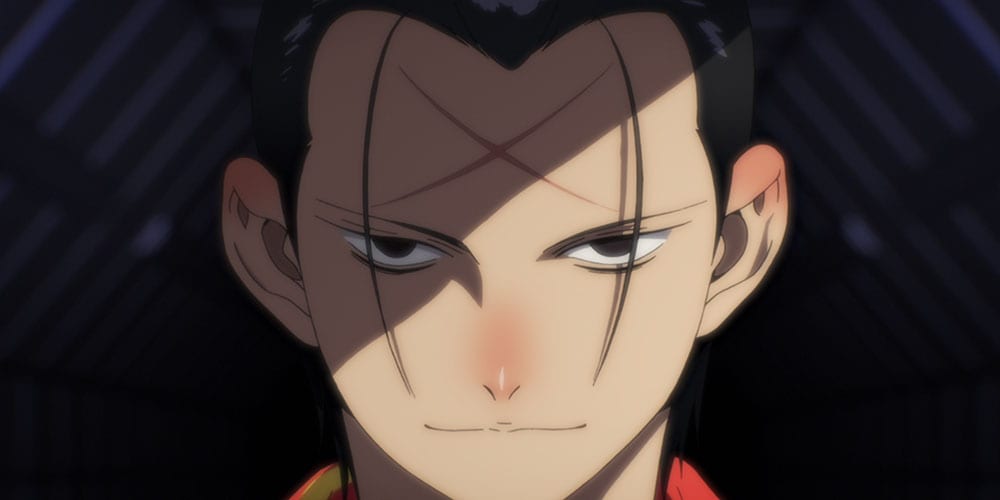 Image Credit: Crunchyroll
The God of High School episode two is another 9/10 in my book. Something that I'm left wondering is why some fighters seem more inclined to use god-like powers than others. Nobody seems terribly shocked at their presence, so I assume that these strengths are commonplace among some people. Still, the rest of the episode was a great continuation into the trio's friendship we'll follow, and Mori's quest to do right by himself and his friends.
The God of High School is out on Crunchyroll every Monday at 10:30 am EST/9:30 am CST.
Thanks for reading Comic Years for all things anime, comics, and pop culture.
Featured Image Credit: Crunchyroll Originals
Taylor is the Gaming Editor of Comic Years and a lifelong fan of video games. He holds two degrees in Political Communication and wrote a Master's Thesis on resistance movements, race, and the exploitation of college athletes. His wife and two Toy Australian Sheppards keep him sane.
Leave a comment