Spy x Family TV Series Key Visual For First Episode Released
The latest key visual for the highly anticipated anime, Spy x Family TV series, has been released with a good look at the key characters. The image shows the family of 3 as they all stare at the television, being a normal family for once. Loid Forger is seated on the couch next to his enthusiastic daughter, Anya, as she chows on popcorn, and his wife, Yor, stands behind them.
Spy x Family TV series is a widely popular manga on Shonen Jump that is now being animated by Wit Studio and CloverWorks as an anime scheduled to be released on April 9th, 2022. The action-comedy was created by Tatsuya Endo and revolves around a spy who has to create a makeshift, fake family with an assassin and a telepath. The manga has sold beyond 15 million copies in Japan by April 2022 and was voted as the number 1 recommended manga by Japanese bookstores in 2020. Polygon also included the manga in its best comics of 2019 list.
Spy x Family TV series Key Visuals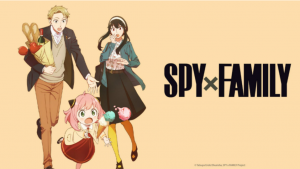 Key art for 'Spy x Family' | Tatsuya Endo/Shueisha
The collaboration between two respected Japanese studios in the anime industry increased the buzz for an already well-anticipated anime adaptation, and they have been releasing some nice key visuals for the upcoming anime. Wit Studio is the mind behind the first three Attack on Titan seasons, The Great Pretender, the masterpiece that is Vinland Saga season 1, and more. And CloverWorks is a large studio behind Fate Grand Order: Absolute Demonic Front Babylonia, The Promised Neverland's amazing first season, and the visual beauty of Fate Apocrypha among other works.
In an earlier key visual released, one can see the family of three walking down the street like an everyday, mundane group, but below on the pavement are their real personas. Loid is an intelligent spy, Yor is a ruthless assassin, and Anya is a powerful telepath. The key visual is a perfect illustration of what the show is about. Other than the key visuals, there were also promotional pictures released for Jump Festa 2022 that centered around Anya.
More about The Spy X Family the Anime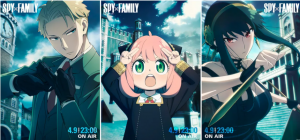 Source: AnimeJapan 2022, Official Twitter © Tatsuya Endo, Shueisha / Spy x Family Project
The development team behind Spy x Family TV series is massive, filled with some of the best minds from both WiT Studio and CloverWorks. The anime is being released in two cours for its first season and is a part of this year's spring season of anime alongside Komi Can't Communicate season 2, Rising of the Shield Hero season 2, and Kaguya sama Love is War season 3. You can watch Spy x Family TV series on Crunchyroll but the time you get to watch it may differ based on your region.
For those unfamiliar with Spy x Family TV series, you might want to take a look at the official anime synopsis from Crunchyroll below,
"Master spy Twilight is unparalleled when it comes to going undercover on dangerous missions for the betterment of the world. But when he receives the ultimate assignment-to get married and have a kid-he may finally be in over his head!

Not one to depend on others, Twilight has his work cut out for him procuring both a wife and a child for his mission to infiltrate an elite private school. What he doesn't know is that the wife he's chosen is an assassin and the child he's adopted is a telepath!"
So, what do you think about both the previous and new key visuals? Are you a manga reader or is the anime going to be a fresh experience for you? Do you like them and have they made you want to check out the anime if you weren't going to before? The first episode of Spy x Family is coming out on the 9th of April, so be sure to check it out if you can.
Leave a comment