MAPPA Stage 2023: All Panelists and Performers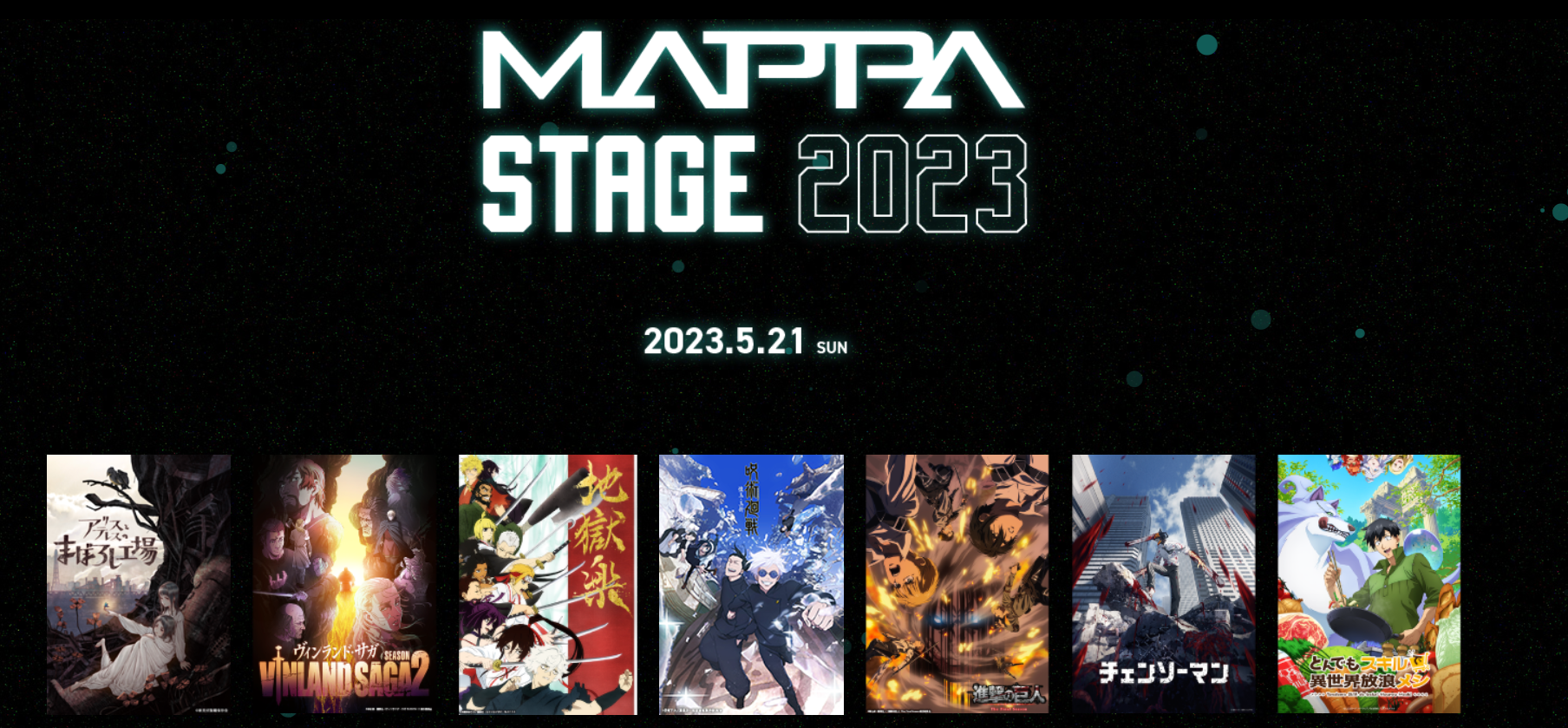 With many new anime projects they're currently leading, MAPPA animation studio decided to create a special event. Therefore, the upcoming MAPPA Stage 2023 will serve as an event to showcase all the progress and news when it comes to Attack on Titan, Jujutsu Kaisen, and many other projects. 
MAPPA Stage 2023 Panelists 
With the special event coming up on May 21st, 2023, the MAPPA Stage 2023 panelists have been announced. While the event will happen at the Tokyo Garden Theatre, viewers all around the world will be able to tune in via Youtube. The event will feature performers, staff and cast members for the following anime. 
Firstly, MAPPA's biggest project so far is Attack on Titan. The event will mainly showcase the new information regarding the final season. Moreover, the AOT panelists will include several cast members, as well as the director.
The panelists are Yuki Kaji (Eren Yeager), Yui Ishikawa (Mikasa), Romi Park (Hanji), and Yuichiro Hayashi (director). They will reveal behind-the-scenes of the making of Attack on Titan's final season, which is coming this fall. 
The second-biggest project by MAPPA is Jujutsu Kaisen. After the successful premiere of JJK 0 and JJK season 1, season 2 is officially on its way! The panelists for this awesome anime will be Junya Enoki (Yuhito Kojo), Yuma Uchida (Megumi Fushiguro), Seto Asami (Kugizaki Nobara), and Megumi Ogata (Yuta Otsukotsu). 
Next, we have the Vinland Saga. With season 2 on its way, MAPPA Stage 2023 will feature Yuuto Uemura (Thorfin), Shunsuke Takeuchi (Einar), and finally, Shuhei Yabuta (director). On a similar note, the Chainsaw Man panelists will include actors Kikunosuke Toya (Denji), Tomori Kusunoki (Makima), and Shogo Sakata (Aki Hayakawa).
Apart from these big names in the anime realm, we will also hear the news about "Jigokuraku" and "Wandering around Another World with Ridiculous Skills". Moreover, we'll finally hear more about Sunao Katabuchi's new movie. The famous director has been working on a new project with the producer Manabu Otsuka and the artist Yuma Uchida.
Music Performers Scheduled to Appear in MAPPA's event
Here are all the performers that confirmed their appearance at the upcoming MAPPA Stage 2023. Firstly, we'll witness yet another amazing performance by Shinsei Kamatate. Shinsei will sing the opening theme of Attack on Titan Final Season Part 1. 
Next, Who-ya Extended will perform the opening sequence for Jujutsu Kaisen Season 1. And lastly, Anonymouz will sing River, the opening theme of the Vinland Saga! With many news about these amazing anime series, the MAPPA Stage 2023 will undoubtedly shake up the internet. 
Obsessed with anime, all-things magical, collecting rare editions and funko pops, Natalija is a young writer who strives to read every comic and manga out there!
Leave a comment