Interview: God Of High School English Dub Voice Actors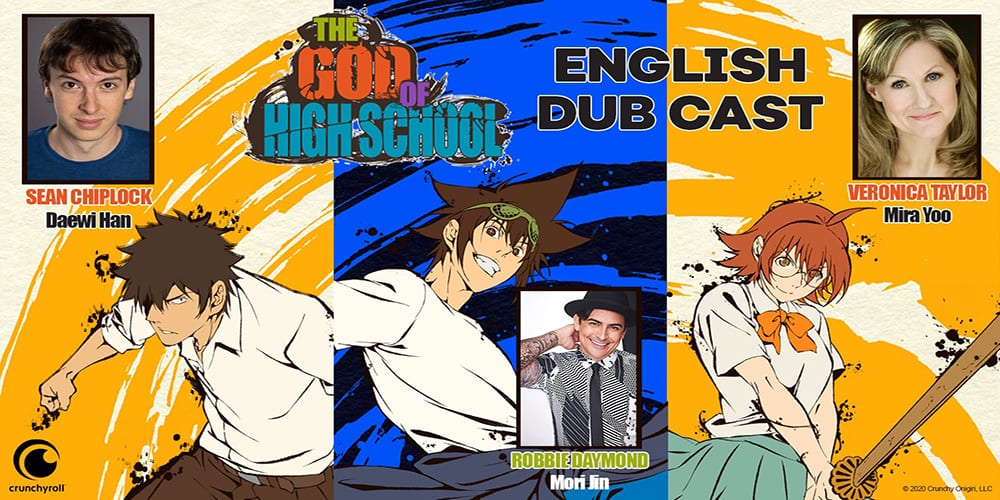 Today, Crunchyroll launched the English dub of its hit show, The God of High School. For anyone who loves action, fighting, and strong lead characters, this show is a sure-fire favorite in the making. If you've enjoyed the sub so far, then don't skip out on the dub. The main trio in the show is truly getting three amazing actors to provide their voices. We had a chance to chat with the stars of the God of High School English dub and talk about the new project. Here's our interview with Robbie Daymond (Jin Mori), Veronica Taylor (Yu Mira), and Sean Chiplock (Han Daewi).
 What interested you in being a part of The God of High School English Dub?
Image via Crunchyroll.
Robbie Daymond (Voices Jin Mori): I have always wanted to be the lead in a fighting anime. I grew up on shows like "Dragon Ball Z" and manga like "Yu Yu Hakusho". I've been several protagonists over the past half a decade or so in some really fun shows. I've played a lot of heroes, but I'm stoked to have the opportunity to be playing a stone-cold, op bad-ass in a straight-up fight show! 
Sean Chiplock (Voices Han Daewi): Voice acting, in general, is an amazing way to have the chance to portray roles and experience events that might be straight-up impossible to replicate in real life. Anime in particular has this freedom in embracing the unusual or the fantastical. I cherish any time I get a chance to become a part of that medium and see what kinds of unexpected situations I'll be faced with.
Veronica Taylor (Voices Yu Mira): I love that this web manhwa is being made available to a larger audience through our English dub. Crunchyroll has been taking on some super interesting projects. I'm very happy to be a part of this one! The story is creative, the animation is wonderful, and the characters all have terrific arcs. 
What challenges come with the role you're playing in The God of High School?
Image via Screen Grab.
Chiplock: For me, subdued and emotionally nuanced roles tend to be more difficult to pull off successfully; I'm naturally so high energy when it comes to interacting with other people that my brain sort of treats anything less as "boredom", which can be a dangerous way to approach characters who aren't lazy or apathetic. In a way, I have to kind of leech off the energy that Jin Mori gives to Daewi, and use it as permission to reflect some of that buzz while maintaining Daewi's level of personal focus and determination.
Taylor: I love the fact that Mira is seen as shy and unassuming and then we find out how powerful she really is. The challenge is keeping her often over the top character grounded in the reality of a young woman discovering her strength and place in the world.
Daymond: There are a lot of big vocal performance moments in "The God of High School" – in fact, everything in this show is pretty big. The fight scenes are big. The comedy is big. The emotional scenes are big. So you really can't just walk into the studio and phone it in. I think that's definitely a challenge in the best kind of way. By the end of our recording sessions, I'm sweaty and spent!
Is there another character you've done voice work for that you think could make a run in the tournament? Or one that maybe wouldn't stand a chance?
Image via Screen Grab.
Taylor: We never know what we are truly capable of until pushed to our perceived limits. Often that which others do appears easy. We don't see all of the hard work and training they have put in to become masters of their craft. I don't know that any of the characters I've played could possibly even think about going into the ring. Many are self-aware enough to know they are woefully unprepared. However, many like Ash, May, April, or Sailor Pluto would take a training class from Mira.
Chiplock: Subaru Natsuki (Re:ZERO) has enough personal training with martial arts that he could genuinely hold his own against the average competitor, and even could throw some of his swordplay and magical expertise into the mix for those opportunities for an upset. He might eventually run into a power-creep too great for him to overcome, but if he also has his Return by Death ability then it's pretty much a guaranteed endgame victory with time being the only factor.
Daymond: I don't think Tuxedo Mask would stand much of a chance even though I love him! He's a solid support system for the ladies and an overall good guy, but I do not think he would do so well in this tournament, haha! However, I have also voiced Kenshiro from Fist of the North Star, and I think good ol' Ken would do pretty darn well.
What's one element to your character you look forward to bringing to The God of High School English dub?
Image via Screen Grab.
Daymond: For me, I'm most excited about the comedy. There's so much of it in the show and so many little moments where I found myself becoming endeared to Mori after dubbing just a few episodes. So, I've had such a fun time with that and that's where my heart lies as an actor; comedy. I'm really looking forward to bringing more of those moments to English speaking audiences in a new and lovable way.
Chiplock: The quietest folks in the friend circle are often the most vicious when you finally anger them, and I'm certain there will be moments where Daewi's convictions and willpower overwhelm his normal facade. I look forward to really getting to show how intense he can be when the situation demands it.
Taylor: If there is one thing to say about Mira, it's that she is always herself. I would love people to take away the importance of being true to who you are, challenging yourself to be your best, and being open to new opportunities and the fun and friendship that they may bring. 
Thanks to Crunchyroll for connecting us with the cast of The God of High School English dub. The dub debuts today at 11 am on Crunchyroll. You can also keep up with our weekly review of God of High School (the last one was for episode seven) right here on Comic Years
Featured Image Credit: Crunchyroll
Taylor is the Gaming Editor of Comic Years and a lifelong fan of video games. He holds two degrees in Political Communication and wrote a Master's Thesis on resistance movements, race, and the exploitation of college athletes. His wife and two Toy Australian Sheppards keep him sane.
Leave a comment